Heart of The Home
Dear friends,
Greetings in the Precious Name of Jesus Christ our Lord and Saviour, the One who has put us together and revealed Himself to us through The Word of God.
I write this column very early on a freezing cold winter's morning. There is no sign of the sun rising; only the moon and the stars are in sight. I think it must probably be -1°C on the farm this morning, but I thank God for the seasons. I love the summer and I love the winter, because God made them both. I also love spring and autumn. What a privilege it is to grow, to live and to work in the countryside.
This morning the Lord spoke to me through Proverbs 12:4 (NKJV):
"An excellent wife is the crown of her husband, But she who causes shame is like rottenness in his bones."
I really want to use this newsletter to thank the Lord for God-fearing wives. Where would we men be without excellent wives? The Bible talks about a "Woman of Valour." I can only speak for myself. God has given me an excellent wife.
Jill is not only the mother of my five children, but a mother for 27 adopted children, a grandmother of ten grandchildren, and also the spiritual mother of 300-plus men who I am busy mentoring at the moment. But she is also my best friend, my confidante, my advisor and my sounding board. In fact, I don't know what I would have done without her. I don't think we give our wives enough credit, especially when thinking of the role of the housewives.
Without my wife, I know for a fact that I would be nowhere today. Yes, I know that the Lord Jesus Christ Himself is my ultimate strength, visionary and Saviour, but He gave me a wonderful helpmeet. In fact, if you read Proverbs 18:22 (NKJV) the Bible says,
"He who finds a wife finds a good thing, and obtains favour from the Lord."
I can honestly say that I have found extreme favour from the Lord. He has blessed me more than I could ever have dreamt of.
It just feels like yesterday that we arrived at Shalom farm. We had put a deposit down on a piece of land overgrown with wattle bush and proceeded to build a house in three weeks out of mud and sticks. We had to dig a hole in a damp spot that we identified on the farm, and the water came up out of the ground from a beautiful spring. We literally started with nothing, and a neighbour for whom I am eternally grateful had mercy on us and brought over a water cart, which we parked next to our caravan. At that time, I was working between 16 and 18 hours a day. I had just turned 30 years old four days before we reached the farm. My wife was still in her 20s and we had three children. Our oldest child was seven years old and we had one on the way (Jill was 6 months pregnant). I could not speak Zulu and did not know anything about the seasons or methods of farming in this part of the world, and we only had one little tractor on the farm. Many people over the years have come to me and complimented me on the way in which we started, because the Lord has blessed us since then and our children are now running the farms so that we can dedicate our lives to propagating the Gospel of Jesus Christ.
But I really want to take this opportunity to thank God for my wife, and indeed for all Christian wives and homemakers. The very word 'housewife' in some circles has become a derogatory word. That makes me so sad because, as far as I'm concerned, the homemaker is the most important person in the entire home. I am well aware that there are many single parents reading this newsletter, and I fully understand your situation and honour you for bringing up a family on your own. By the grace of God you will make it.
When I read in history about great men of God who have achieved amazing feats for the kingdom, nine times out of ten they will give credit and honour to their mothers or wives who have been there for them. John Wesley, who was used by God to start probably one of the greatest revivals that the world has ever known, was a little Englishman who stood 5-foot-6 tall. He honoured his mother, Susanna. She had eighteen children and was the wife of a very poor Padre. Never in all the books I've read about John Wesley does he mention his father once. Even though his father was a Minister, he acknowledged his mother as his biggest inspiration. John Wesley studied under people such as Count Zinzendorf (the founder of the Moravian denomination), John Calvin (the great Protestant theologian) and many others, but he gave all the credit to Susanna Wesley.
He said with fondness that his mother used to sit in front of the fireplace in the early mornings when the children were dressed and had finished eating their breakfast. She would throw her apron over her head, and it was then that all of the children knew that 'Mamma' was speaking to God, and that there was not a sound to be made.
We must never neglect our wives, or our mothers for that matter. Without Jill, I would never ever have been able to get Shalom farm off the ground. We have won agricultural prizes in the past and people are quick to say, "Well done Angus." But I have to reprove them immediately and say, "No, not me, but my wife who stood by me, and Almighty God who has blessed us." Let us not take our wives or our mothers for granted. For indeed, the man may be the head of his home, but the woman is the heart of the home.
So, we thank God for family. As I write this newsletter I am so aware of how the time is flying. Our ten grandchildren are growing up. In fact, our oldest grandchild is at university, now studying Occupational Therapy, and we are about to be grandparents yet again. Our son Fergie and his wife Ashleigh are about to have a baby daughter in October. We are so excited, as we only have two granddaughters and all the rest are boys. So, we look forward to another granddaughter in the family.
I cannot stress enough the importance of our families being our greatest credentials, as Christians. The world has literally gone mad and all the godly principles have been thrown out the window. Some young people don't know whether they are men or women. They have lost direction and hope, but when they focus on the Christian family, it brings stability and sanity back into their lives.
I'll never forget the first campaign that we ever had. It was in 1989/90. A young man came to me after our first meeting and he never mentioned my preaching, or the praise and worship in the Ladysmith town hall. He said that seeing me standing on the platform with my whole family - my wife and my children - had touched him more deeply than anything else, and he came back to Christ through that example.
The Christian family is the foundation of Godly living. Let us honour the heart of the home - the woman. Jesus says,
"An excellent wife is the crown of her husband."
I thank the Lord for my wife who gives me place to be able to stand on platforms all over the world and to exhort people to turn back to Jesus. May God bless you as you protect your family, love your family, encourage your family and never ever put your family in second place.
God bless,
Angus Buchan
Have you to seen our recently updated website.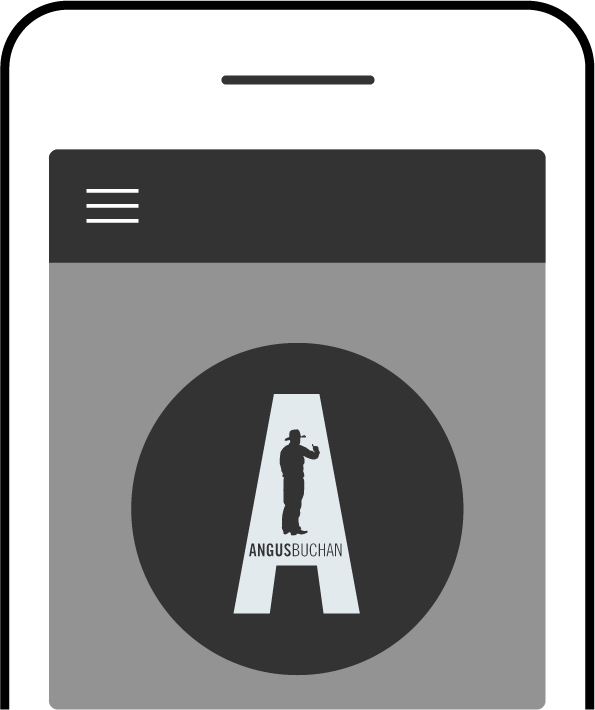 Have you tried our app yet?
Get up-to-date information about the latest TV episodes, publications and events, all on your mobile device.